You don't have to be good at dancing and we encourage you to dance with friends as well!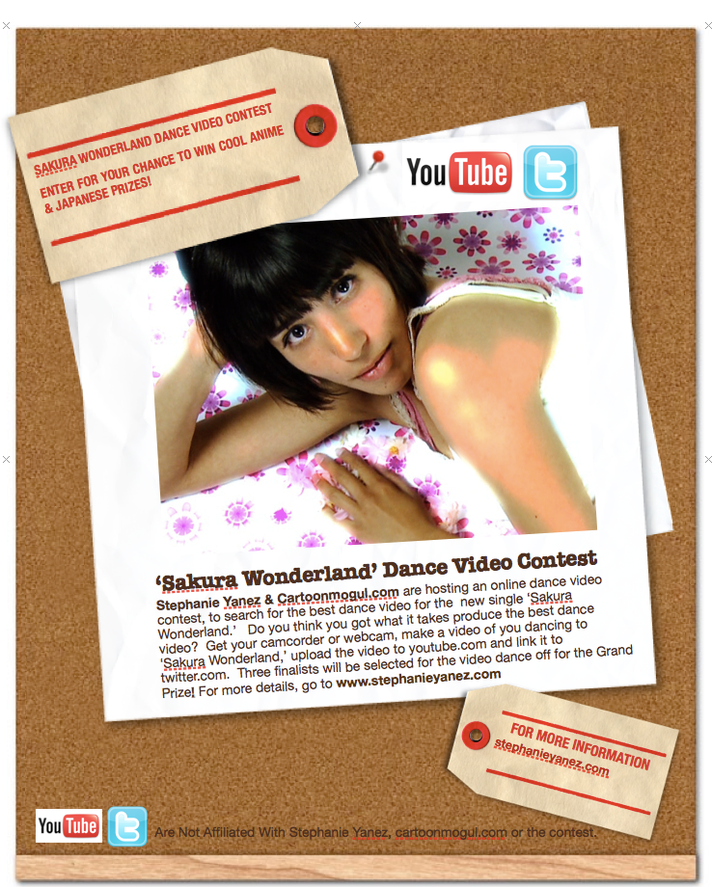 Watch the video for more details! Comment and I will love you for life!
Instructions and Rules:
1. Purchase and download the song "Sakura Wonderland" from stephanieyanez.com OR if you do not want to buy the song you can go to youtube.com/axidolsteph and click on Sakura Wonderland music video to playback song while recording your dance video.
Plan your video or make it quick and simple.  We want you to be creative with the video or create a cool new dance for the song.  
Suggestions:  Dress up in different wardrobe or cosplay, film in interesting locations, choreograph a dynamic dance or  do your best  dance moves!  
Contest starts May 3rd, 2010 and ends July 12th, 2010.  Upload your video before July 12th 11:59pm on youtube.com.  Make sure when uploading the video you write StephanieYanez.com Dance Video Contest  in the title heading, so we can keep track of the video entries.
In addition but not mandatory you can tweet your video on twitter.com.  Make sure you  tweet: StephanieYanez.com Dance Video Contest and attach the  url link  to your youtube dance video entry and send it as a tweet to @KawaiiStephanie on
http://twitter.com/KawaiiStephanie
 (please do not send it as a direct message to KawaiiStephanie.)
Three Finalist will be chosen by Stephanie Yanez, cartoonmogul.com and a panel of judges after the end of the contest - two weeks after July 12th.  Winner will be announced via youtube by Stephanie.
Winning videos will be selected in three categories one for  "Best Creative Video," one for "Best Dance Choreography," and one for "Audience Award"  (This award will be based on ratings & comments you get on your video.  So make sure you ask people to rate and comment on your dance video.)
All Finalist will win a Stephanie Yanez/cartoonmogul gift basket assembled by Stephanie  and Amazon.com gift card.  Winner will be contacted via your youtube and if you have a twitter account on that as well!